When:
2017-01-26 @ 9:00 pm – 2017-01-27 @ 2:00 am
America/New York Timezone
2017-01-26T21:00:00-05:00
2017-01-27T02:00:00-05:00
Where:
Milk River
Milk River Restaurant 960 Atlantic Avenue Brooklyn
NY 11238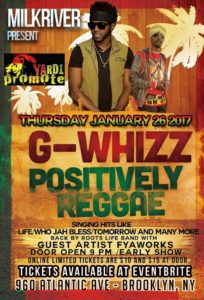 MILK RIVER ALONGSIDE YARD 1 PROMO
PRESENT
POSITIVELY REGGAE
PERFORMING LIVE:
FYAWORKS
G-WHIZZ
BACKED BY THE: ROOTS LIFE BAND
ADM: $10
ABOUT G-WHIZZ:
BROOKLYN GET READY FOR G-WHIZZ POSITIVELY REGGAE——-G Whizz was born on the tropical island of Jamaica , renown for its bauxite, lush vegetation, exquisite beaches and rich musical heritage his focus is to build on this legacy and in time find a place among the greats.
His greatest inspiration is Bob Marley! Hailed as a rising star, the young singer, songwriter and composer diverse talent encapsulates Reggae, R&B & Dancehall displaying such versatility second to none.
At this early stage in his career, his delivery and vocal style shows a depth of talent that legendary artiste Johnny "Mr. Buda-Bye" Osbourne commented, "He is ready". Needless to say anymore, your own experience is the barometer to determine his true potential.
G-Whizz has released several music videos including: "Life", "Tomorrow", "On and On", "Sorrow", "I feel It", "Those Days Are No More" on the Spiritual Warfare rhythm, "Ghetto Life", "No More War", "Hush", "She's Hot", "Break Free", & "Ease My Mind", a collaboration with female artiste Minx. These videos are also in rotation on Jamaican cable channels: CVM TV, TV J, R.E. TV, Hype TV and Music Plus.
He has performed in the Cayman Islands, New York City, Boston, Atlanta, "Best Of the Best" Concert – Miami, England, Bahamas, St Croix, Bermuda and popular Jamaica Events: Capleton St Mary Me Come From Annual Charity Show, Anthony B Trelawny Fun Day, Reggae Sumfest, STING and Fully Loaded @ James Bond Beach in Jamaica.
His vocal versatility has lead to several collaborations featuring Junior (One Blood) Reid (Gonna Be Alright), Nanko & Atomic (Break Free), Turbulence (Love is Wonderful), Bling Dawg, Minx (Ease My Mind), Deva Bratt, Chi-Ching Ching (We Wont Stop) and others.