When:
2017-02-07 @ 7:00 pm
America/New York Timezone
2017-02-07T19:00:00-05:00
2017-02-07T19:15:00-05:00
Where:
B.B. King Blues Club & Grill
237 W 42nd St
New York
NY 10036

Cost:
$25 ADV. $35 Day Of Show
Contact:
B.B.King Bar & Grill
(212) 997-4144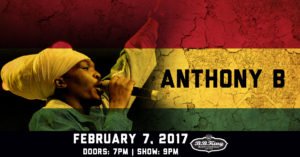 ANTHONY B LIVE! w/ Full Band
Doors: 7 PM
SHOW: 9 PM
ADM: $25 in Advance $30 Day Of Show
A Lil bout the Artist:
Draped in the rich colors of African cloth, his trademark staff in hand, and his dreadlocks wrapped regally on his head, Anthony B embodies all that it is spiritual and proactive about reggae music. This artist has been steadfast in his mission to represent the poor and oppressed, using sharp lyrics to confront political injustices and bring the issues of the people to the forefront. In the process, he has raised the quality of performance standards and lyrical content for the industry through the release of more than 14 albums and 1000 singles, and appearances on over 100 albums in the last 14 years.
Anthony B's musical journey started in the church, back when he was still called Keith Anthony Blair in Jamaica. In 1992, he left his hometown and set out to make his fateful mark on Kingston's music scene. He soon partnered with producer Richard "Bell" Bello of Star Trail Records – a relationship that spawned a slew of records and releases, including "Repentance Time," "Fire Pon Rome," "One Thing," and "Raid di Barn." Anthony followed up with critically acclaimed albums like Real Revolutionary (1998), Universal Struggle (1998), Seven Seals (1999), Untouchable (2004), and Black Star (2005). In addition, in 2002 he started his own label, Born Fire Records, and independently produced the albums Street Knowledge (2003), That's Life (2001), and Life Over Death (2008).
Anthony B's lyrical genius and his captivating, energetic performance style have caused him to be heavily requested for performances in the Caribbean, North America, Europe, and Africa. He has performed all over the world, including shows in such disparate locations as Gambia, Senegal, India, Iceland, Venezuela, Switzerland, Austria, and Germany. Over the years, he has collaborated with Bone Crusher, Akon, Wyclef Jean, Snoop Dogg, R. Kelly, and many others. His latest album, Rise Up (2009), continues Anthony's legacy as he proves himself to be one of reggae's most prolific and engaging artists – an electrifying performer whose music grips the public social conscience.