2016-12-29 0 Comments
The Wailers & Spiritual Rez at Brooklyn Bowl
When:
2017-01-11 @ 6:00 pm
America/New York Timezone
2017-01-11T18:00:00-05:00
2017-01-11T18:15:00-05:00
Where:
Brooklyn Bowl
61 WYTHE AVENUE BROOKLYN
NY
11249

Contact:
Brooklyn Bowl
718.963.3369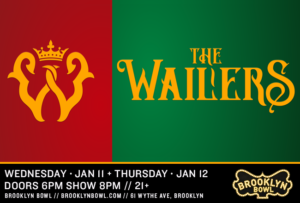 THE WAILERS
The legendary Wailers band is carrying its revolutionary sound and message to faithful fans around the world. Steered by famed bassist and founder Aston "Familyman" Barrett, and joined in solidarity with original Wailers Junior Marvin and Donald Kinsey, The Wailers are making musical history!
The band that created, recorded, and performed Reggae music for all generations will have you skanking in the aisle with your favorite songs from Exodus, Kaya, Legend, and Rastaman Vibration, to today's exciting new music! From Familyman's signature booming bass to Junior and Donald's electrifying rock/blues guitar licks and leads, the sound, the power, the heartbeat of Reggae music will have you calling out for more!
The Wailers promise to not only deliver music and talent perfected over more than 40 years, but thankfully introduces fans to new-generation talent who have ties to the Bob Marley & The Wailers family and legacy. Drummer Aston Barrett Jr. is Familyman's multi-talented son and nephew of Wailers co-founder and pioneering drummer Carlton "Carly" Barrett. Aston Jr. plays multiple instruments, but when the young Barrett sits down to wail on the drums, it's strictly his Uncle Carly's inspiration you hear. "Only he can play his uncle," Familyman says proudly, "he is the closest to his uncle."
Josh David Barrett is a Brooklyn-based singer and musician Aston Jr. brought into The Wailers in 2014. A Rastaman by lifestyle and culture, Josh adeptly delivers Bob's powerful messages of Jah love and world unity through his performance and interaction with the audience. Josh is an authentic Rastafari bridge between Reggae's former and current spiritual and musical "troditions."
Singer Shema McGregor is Reggae royalty, following in the line of her mother Judy Mowatt, a member of Bob Marley's world renowned I-Three. Her father is Freddie McGregor, award winning singer and head of Kingston's Big Ship recording studios. Shema graces The Wailers performances with her beautiful harmony and movements, sharing the same charm and style her mother brought 40 years ago.
Owen "Dreadie" Reid is the last student lucky enough to have Aston "Familyman" Barrett be his mentor on bass. His style is reminiscent of the great Fams and he performs with great power and precision, whether on bass or rhythm guitar. Dreadie has toured and recorded with Bob's son, Julian Marley & The Uprising Band.
Keyboardist Javaughn Bond has recorded and toured with Julian, Stephen and Damian Marley on assorted projects. He regularly records with Kingston's Ghetto Youths International and Tuff Gong labels. As a Wailer, he brings an uplifting vibe to fans, drawing them in with his joyful keyboards and singing style.
From 1973 to 1980, Bob Marley & The Wailers recorded, toured, and performed before millions of fans in numerous countries. Their mission now is to "keep The Wailers together," just as Bob requested when he told Fams and Junior, "By doing that you keep me alive through the music."
The Wailers have claim to more than 250 million Bob Marley & The Wailers recordings sold, including 1977's Exodus, anointed Best Album of the Century in 1999 by Time Magazine, and "One Love" named Song of the Millennium that same year by BBC. Spin Magazine listed Bob Marley & The Wailers at #4 of the 50 Greatest Bands of All Times, while The New York Times named Bob Marley the most significant musician of the century. All of these accolades were made possible by the creative, timeless, and distinctive music, lyrics, arrangements, and production provided by the incomparable Wailers musicians.
Not long into the writing and recording process of their fourth studio album, Setting in the West (due out October 7th, 2016), reggae-fusion act Spiritual Rez knew they were creating something special. Under the guidance of producer Kenny Carkeet, a founding member of AWOLNATION, the eclectic sextet fused their high-energy reggae sound with an edgy contemporary pop polish.
Tireless touring and a higher education in music has found Spiritual Rez in complete harmony on stage; forging a reputation as a live act that never fails to exhilarate a crowd. Carkeet describes them as "one of the hardest working bands in showbiz." He's also taken note of their years of hard work paying off in the studio, saying, "Each one of the guys are incredible with their instrument, which made my job easy. Frontman Toft Willingham's outstanding voice was really fun to work with."
To date, Spiritual Rez has shared the stage with notable names likeGeorge Clinton and Parliament Funkadelic, Steel Pulse, Jimmy Buffet, and countless others. "I have total confidence in every member of our operation on and off stage," says lead vocalist and guitarist Toft Willingham. "Having recorded four albums before Setting in the West, we felt honed and ready to bring that confidence to the studio."
Setting in the West is a conglomeration of story songs, love songs and songs featuring a common message from past Spiritual Rez records: follow your dreams and never give up. "Our last record was very politically and socially driven," Willingham recalls of their 2014 self-produced concept album, Apocalypse Whenever, which reached #2 on the Relix/Jambands Radio Chart and #8 on the iTunes Reggae Chart. "For this album, we wanted to break away from that and write about love and things that resonate with the masses. We wanted to tell stories and encourage people. Determination has always carried us as a band. After college, we were homeless for four years, just touring nonstop, committed to never giving up."
Despite the contrasting lyrical content, the subject matter is always positive. "Red Room," a reggae-rock banger meant to inspire the youth to chase their goals, features Duddy B of The Dirty Heads, as well as co-writing by Goldfinger's John Feldmann. Setting in the West features additional notable collaboration with rising reggae star Hirie on the ballad "Together Always," and the trombone stylings of Reel Big Fish's Billy Kottage on "Bad Girl."
The reggae-hip hop anthem "Sober," is a tale of a party romance with an infectious chorus. "'Sober' has the best chorus we've ever written," says Willingham. "Our bassist Jesse Shaternick brought the groove to the band. Jesse, Kenny Carkeet, and our drummer Ian "Meat" Miller fleshed out the track while Max and I wrote the lyrics. It just flowed." Willingham is referring to Max Collins of Eve 6, who co-produced and co-wrote the record. Collins says of the band, "They create their own world, and it was such a joy to be immersed in their deep, warm psychedelia."
In addition to Willingham, Shaternick, and Miller, Spiritual Rez is rounded out by Mohamed Araki (keys), Quinn Carson (trombone) and Julian Dessler (trumpet). Setting in the West was recorded at Jim Kaufman Productions in Los Angeles, Hookbeat Studios in Venice Beach, CA and 9B Studios in Milford, MA.
The album's last track, "Digital Age," delivers a message to not fear change, but to embrace it. Willingham explains that it's the last song on the album for a reason. "It embodies our desire to progress and never stop striving to make the best art possible," he says. "To have made it this far doing what we love and not see an end in sight is a testament to hard work, but above all, it's a blessing."
---