When:
2017-02-22 @ 7:00 pm
America/New York Timezone
2017-02-22T19:00:00-05:00
2017-02-22T19:15:00-05:00
Where:
Irving Plaza
17 Irving Place New York
NY 10003
Contact:
Irving Plaza
212.777.6817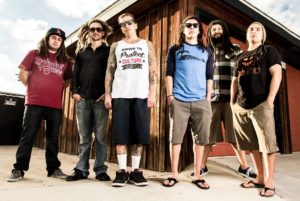 Tribal Seeds' unmatched musical talent and authentic sound has brought them to the forefront of the reggae rock genre, as their art form has reached people of all ages across the United States, and worldwide.
The band's debut, self titled album "Tribal Seeds" was released in 2008 with their second album "The Harvest" following, June of 2009. iTunes named both albums "Best Of" in the Reggae genre, for their respected years. Their debut album helped garner them the "Best World Music" title at the San Diego Music Awards in 2008, and "The Harvest," which contained fourteen new and original songs, debuted at the number 5 spot on the Billboard Reggae Charts. The tracks, written and produced by Tribal Seeds, were recorded and mixed by Alan Sanderson at Signature Sound Studios in San Diego, and mastered by Erik Lobson at Universal Mastering.
On July 19, 2011, Tribal Seeds gave listeners a brand new EP entitled "Soundwaves," which peaked at number 2 on the Billboard Reggae Charts. The band notes that the album was inspired by their life experiences, being on tour, and their desire to inspire youth to raise their voices and seek a higher consciousness.
On May 13, 2014 Tribal Seeds released their highly anticipated fourth album, Representing. The new album debuted at Number 1 on the Billboard Reggae Charts as well as the iTunes & Amazon charts. The new album is sure to not only reaffirm but solidify their pioneering classic blend of Roots and new era Rock-Reggae. The album brings you 12 original recordings and features some of the genres favorite stars: Don Carlos, Mykal Rose, Kyle McDonald (Slightly Stoopid), Vaughn Benjamin (Midnite), New Kingston and the band's own, Maad T-Ray and lead guitarist Gonzo.
Tribal Seeds have toured throughout the United States, and have also performed in Mexico, Guam & Aruba. They have shared the stage with artists such as Dave Matthews Band, Jack White, Red Hot Chili Peppers, Jane's Addiction,Skrillex, MGMT, Cee Lo Green, Jason Mraz, Matisyahu, Sublime with Rome, Taking Back Sunday, O.A.R., Pretty Lights, Steel Pulse, The Wailers, Pepper, Collie Buddz, Julian Marley, Stephen Marley, Gregory Isaacs, SOJA, Rebelution, and many more.