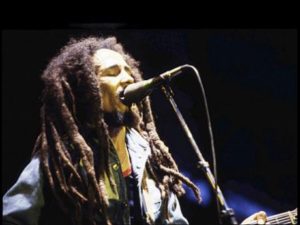 Uprising, released in 1980, was the final Bob Marley and the Wailers album put out by Island Records while Bob Marley was alive. He died on May 11 the following year, and Redemption Song, the final track on the 10-song set, became his personal, acoustic statement of purpose and also a global appeal for all to share his conviction of music's power to unite for freedom.
It is not the only song on the set to fuse the personal and universal. Uprising begins with Coming in From the Cold, which can be taken literally as the musical tale of Marley's return to Jamaica after moving to England in the aftermath of the December 5, 1976, shooting incident at 56 Hope Road, St Andrew. However, it can also be taken as a pointing out of opportunities to those who feel beaten down by life as Marley asks, "Why do you look so sad and forsaken/When one door is closed, don't you know another is open?"
There are no two ways about the opening lines of Bad Card, the third track on Uprising, which states Marley's confidence in his fortitude and longevity. He sings, "You a go tired fi see mi face/Can't get me out of the race." And as 2016 draws to a close on the ITunes chart, it is as he said.
Forty years after the Rastaman Vibration album was released and the shooting at what is now the Bob Marley Museum, the listing of top reggae albums being downloaded on the Macintosh platform is replete with Bob Marley and the Wailers sets. For the listing up to 2:30 a.m., on Friday, December 30, Legend (Remastered) was number one and Legend (Deluxe Edition) number two.
Gold, which has a release date of 2004, is at number six, the 34-track set having a gem in the single-release version of Punky Reggae Party (the live cut is on Babylon By Bus). Exodus (Remastered), the Time Magazine-designated best album of the 20th century, is number 13, just below his son Damian 'Jr Gong' Marley's Welcome to Jamrock set. It is three places ahead of another son, Stephen 'Raga' Marley's Revelation Pt II: The Fruit of Life.
Survival (Remastered) comes in at number 23, followed at number 24 by Live! (Deluxe Edition),and there is yet another Bob Marley and the Wailers set in the iTunes top 40 as Rastaman Vibration (Remastered) is number 38, three places ahead of son Ziggy Marley's Love is My Religion. That set is, in turn, just ahead of his self-titled Ziggy Marley.
Kaya (Remastered) is number 51, while this year's release, The Legend Live: Santa Barbara County Bowl, November 25, 1979, is in position number 53 – six places ahead of Stephen Marley's Mind Control.
The Bob Marley and the Wailers sets in the iTunes top 100 are not finished. Chant Down Babylon, the combination album featuring from Lauryn Hill to Busta Rhymes and Hootie and the Blowfish, is number 66. Following at number 67 is the set that has Bad Card, Uprising (Remastered), with Jr Gong's Half-Way Tree coming in at number 69.
The live album Babylon By Bus (Remastered) is number 72, with another in concert set, Live Forever: The Stanley Theatre, Pittsburgh, PA, September 23, 1980, at number 77 – ten places ahead of Damian Marley's Mr Marley, which has a picture of father and son as its cover art. For good measure, Natty Dread (Remastered) is just behind at number 88, and Live (Remastered) makes it two in a row for Bob Marley and the Wailers.
There is another instance of father and son albums, one after the other in the iTunes top 100 reggae albums listing as Ziggy Marley's Dragonfly is at 93 and Bob Marley and the Wailers' Live at the Roxy: The Complete Concert, is at 94. The combination is reversed with Bob Marley and the Wailers' Confrontation (Remastered) in position number 97 and Ziggy Marley's Fly Rasta at number 98.
It all makes for a lot of material to play and Marley to be heard as he says in Bad Card, "I want to disturb my neighbour cause I'm feeling so right/I want to turn up my disco … ."
Story By Mel Cooke