2019-06-28 0 Comments Editorial, News
Jesse Royal, Kabaka Pyramid and Max Glazer Headline A Socially Conscious Concert
Editorial by Angel Love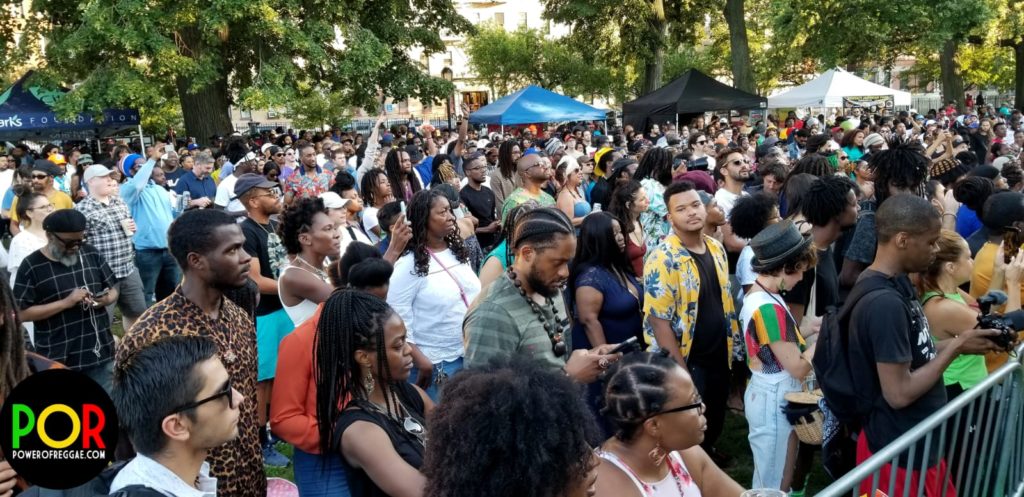 City Parks Summer Stage Brings A High Caliber of Live Performances to Von King Park
On Sunday, June 23, 2019, The New York City Massive gathered in Von King Park from the stage center to the circumference of park for a politically charged music concert of reggae, rap and hip-hop music, presented by City Parks Foundation and Capital One.
New York City Renowned Selector, Max Glazer of Federation Sound excited the crowd with dancehall and reggae tracks from the 90's and beyond. Jesse Royal opened the musical stage with a militant stage presence and solidarity with the crowd, commencing his set with "Power to the People" chants. This was followed by a stirring performance of "400 years" from his album "Lily of Da Valley, "Easy Star Records. The lyrics of this song permeated the crowd with the past and current atrocities faced by people of color and immigrants in the United States. Four days earlier on, June 19, 2019, Senator Majority Leader, Mitch McConnell ignited political controversy at the first House of Representatives Hearing on Reparations in twelve years:
"I don't think reparations for something that happened 150 years ago, for whom none of us currently living are responsible, is a good idea. We've tried to deal with our original sin of slavery by fighting a civil war, by passing landmark civil rights legislation, we 've elected an African American President. I think we're always a work in progress in this country, but no one currently alive was responsible for that, and I don't think we should be trying to figure out how to compensate for it," he said. "First of all, it would be pretty hard to figure out who to compensate. We've had waves of immigrants as well, who have come to the country and experienced dramatic discrimination of one kind or another."-Mitch McConnell, Senator Majority Leader, Hearing on Reparations, June 19, 2019
The crowd listened to every lyric of "400 Years" with a remarkable silence, the words propagated throughout the summer air:
Huh
400 years and counting (counting)
400 years and counting (counting)
400 years and counting (counting)
And it still don't add up (it don't add up)
Get up and do something
Don't be counterproductive
All the people really want is peace and equality
Talking 'bout reparation, for the Black Nation
Africa awaits and creates us
Black sweat and tears
For all these years
ripening the fruits of evolution oh
500 years and counting (counting)
500 years and counting (counting)
500 years and counting (counting)
And it still don't add up (it don't add up)
Get up and do something
Don't be counterproductive
All the people really want is hands and our hearts together
This gave way to Royal's songs "Greedy Babylon," "Generation," and fan favorite "Modern Day Judas." He then delivered his inspirational song, "This Morning." Jesse welcomed his first surprise guest to the stage, Alandon, who reminded the crowd to grow in love and prosperity with the lyrics of "Grow Money Grow." Royal then welcomed a second surprised guest, Don Shepherd from The Nomaddz, who greeted the crowd with the lyrics of "Wha Dis" from the Walshy Fire produced, soon to be released album, "Heaven On Earth." The crowd sang along in unison and Shepherd turned to Jesse and said, "What di blouse and skirt, like dem already know the lyrics." Shepherd really brought down the house with an energetic performance and the crowd cheered with exhilaration.
Max Glazer returned to the stage for a second set, announcing the passing of New York City Prominent Selector, Micro Don (Rampage Global Sound, "Rice and Peas" and "It's Just Dancing"):
"We were to come here together after his event earlier, Summer Bounce, but he never made it. I was not going to do this because we were so close, but I know that he would want me to continue on." –Max Glazer, said tearfully.
Max selected "Sorry" by Foxy Brown and the poignant lyrics rang loud for the loss of a New York City Cultural Icon. People in the crowd embraced each other, some shedding tears, others discussing who he was and what he meant to them. Glazer followed up with more conscious tunes such as Dennis Emmanuel Brown, "Love and Hate" and New Reggae Sensation, Koffee's hit, "Toast."
Following this segment, Kabaka Pyramid ignited the crowd with songs like Ini Kamoze "Here comes the Hotstepper,"Chaka Demus and Pliers, "Murder She Wrote," and Tenor Saw "Ring The Alarm." Kabaka gave an extraordinary performance with his rap, hip-hop –fused reggae lyrics. He performed songs from the Kontraband album "Kaught Up," "My Time," "Never Gonna Be A Slave," on the "Cane" riddim, a DJ Frass production. Kabaka delivered "No Capitalist" and "Herb Defender" from his 2013 album, "Lead the Way." The lyrics from his new single "Mr. Gunman," were amplified by today's unrelenting gun violence :
"Please Mr. Gunman, tell me what you get out of killing, what you get out of blood spilling?"
Pyramid delivered universal messages for social change and consideration throughout his performance.
Faces in the Crowd included Artists: Isasha, Khari Kill, Khalilah Rose and Ras Shiloh. Micheal Goldwasser, CEO of Easy Star Records and staff of Easy Star Records were present. First Lady of Dancehall, Lady Ann, getting ready to embark on her 90's Dancehall USA Tour in August 2019, spoke on her full support of the revolutionary artist line up:
"Mi haffi come out to support the youth. These youths hold the order, and sing the right thing and deliver the right message. Love and Big Up to Jesse Royal and Kabaka Pyramid from The First Lady of Dancehall, Lady Ann." –Lady Ann, Veteran Reggae Artist
The combination of a great DJ and line up of artists and stellar live performances makes this a New York City Concert to remember.
Written by Angel Love
Photograph of Micro Don from his Instagram Page
Photographs of Concert Taken By Father German, CEO of Power of Reggae.Com
---