When:
2023-06-21 @ 7:00 pm – 11:00 pm
America/New York Timezone
2023-06-21T19:00:00-04:00
2023-06-21T23:00:00-04:00
Where:
SoB's
204 Varick St.
New York
NY 10014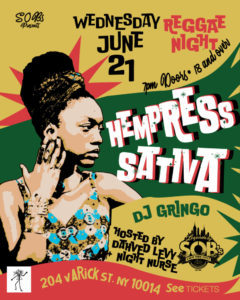 Hempress Sativa is coming to S.O.B's on June 21st!
Inimitably, Hempress Sativa is rightly regarded as a prolific Singer/Songwriter to nascent from her Generation of 'Conscious Roots" purveyors. An anomalous talent, whose expressive writing skills with sharpened delivery commands the attention of her audience in each performance; with an uncanny ability to keep all listening as if in a trance, absorbing her every word, every rhyme. Her music though generally traditional of the Deep Roots, Rock Reggae genre; at times crosses boundaries and may reflect variants of Hip Hop, Afrobeats and R&B with the sultry serenade of (Kushite Love) exemplifying her agility as a diverse artist.
Sounds by DJ Gringo, Dahved Levy, Night Nurse
Instagram @HempressSativa