When:
2017-06-11 @ 10:00 am
America/New York Timezone
2017-06-11T10:00:00-04:00
2017-06-11T10:15:00-04:00
Where:
Roy Wilkins Southern Queens Park
17701 Baisley Blvd
Jamaica
New York 11434

Cost:
Advance Farmers Market General Admission Tickets ONLY: $10. Advance All Access Tickets are $40.00 (and more on the day of the festival).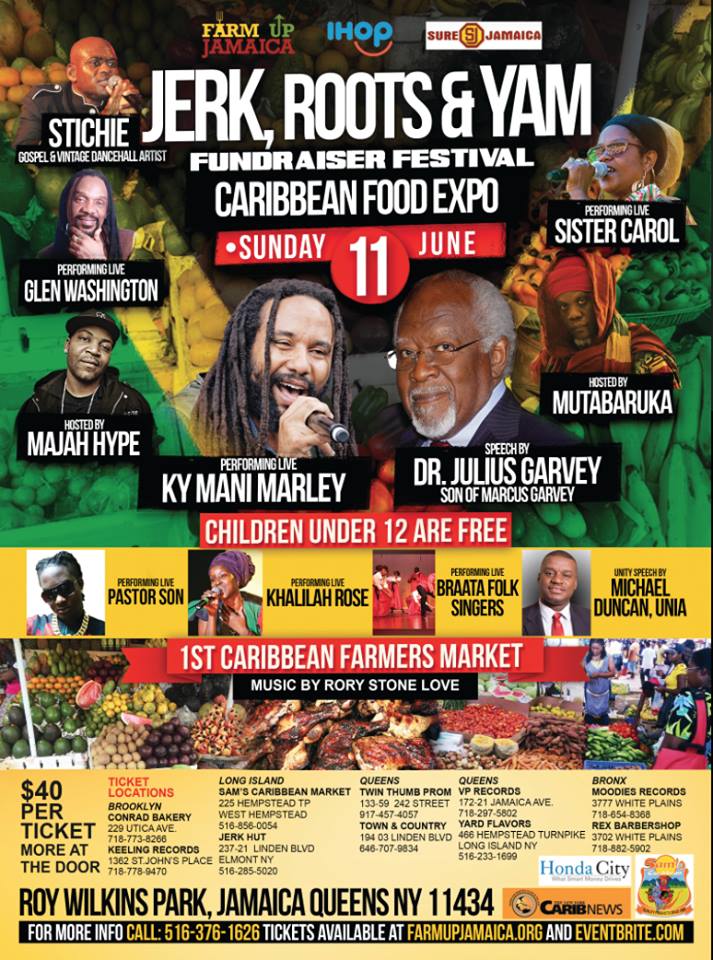 Marcus Garvey's Son, Dr. JULIUS GARVEY, WILL GIVE A HISTORICAL SPEECH At
The 1st EVER FARM UP JAMAICA CARIBBEAN FARMERS MARKET AND JERK ROOTS & YAM FESTIVAL FUNDRAISER.
PERFORMANCES BY: KY MANI MARLEY and , MUTABARUKA, LIEUTENANT STICHIE, GLEN WASHINGTON, LIKKLE JOHN,  KHALILAH ROSE and More to be announced!!!
HOSTED BY: MAJAH HYPE & MUTABARUKA
COME CELEBRATE JAMAICA'S 55th YEAR OF INDEPENDENCE WITH THE CONSULATE GENERAL OF JAMAICA, NEW YORK. JAMAICA DAY!!!
Don't Miss Jamaican Cultural Dancing At The Farm Up Jamaica Jerk Roots and Yam Fundraiser Festival. June 11, 2017 Roy Wilkins Park, Queens NY. Bring the kids for a true history lesson!
Have you ever wanted to share your culture with your friends and family? Well on June 11, 2017 you will have the chance to. Events that day will include:
THE FIRST CARIBBEAN FARMERS MARKET
Here is where you will be able to buy all the Caribbean produce you haven't seen in ages, "FRESH" from the farm! BRING YOUR SHOPPING BAGS!!! Some of the all-stars include:
-Jackfruit -Nesberry -Coconut- Sugarloaf Pineapple -Yam -Banana -Ginger -Sour Sop -Breadfruit -Custard Apple -June Plum -Sugar Cane -Cassava -Dasheen -Yampi -Star apple -Pear – Tinkin Toe -Guinep -Jimbilin and much much more!
-ALL THE JERK EVERYTHING YOU CAN EAT
-ROOTS AND MEDICINAL TONICS
-YAM (jerk, roast, stew and more)
THE, "SO YOU THINK YOU CAN COOK" COOK-OFF We will have prizes up to $1000 for the Best Chef! Who can make the best JERK CHICKEN, ROAST FISH OR ROAST YAM AND SALTFISH? The public will decide!!! Inbox us!
All proceeds will go to the Farm Up Jamaica, Farmer Assistance Fund to help distressed Jamaican farmers and Youth to Learn Organic Agriculture and become Agri Entrepreneurs. Help Us Reduce the amount of food being imported into Jamaica.
Simply Buy Your Ticket Below and HELP JAMAICA RECOVER:
https://www.eventbrite.com/e/farm-up-jamaica-jerk-roots-yam-festival-new-yorks-1st-caribbean-farmers-market-tickets-33481222237?aff=eac2